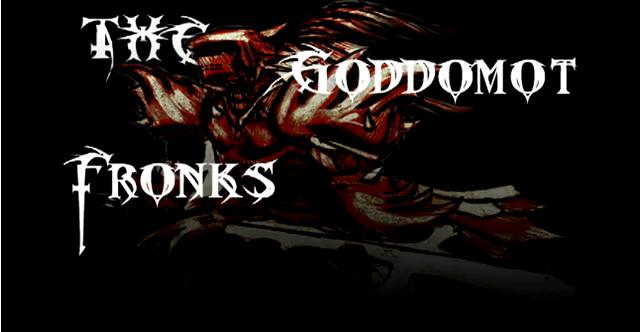 ==
General Information ==
Name: The Goddomot Fronks
Leader: Luke77713
Homeworld: 42
Requirements: P2P, any level.

==History ==
On February 3rd, 2010 The Kingdom of Nardah is formed by Luke77713, The Heat, (c)La Fronk, (c)Dj Da Dj3, and VV-I-N-T-E-R (with assistance by Seal800).
Twenty days later on February 23rd, 2010 The Fronk Transition takes place, and the clan is renamed "The Goddomot Fronks".
On May 10th, 2010 Luke77713 and Macmaster78 (The Heat) step down as leaders of The Goddomot Fronks, and leadership is passed on to DaGreenFiend.
On the day of May 14th, 2010 Dagreenfiend makes his first act as leader when he lifts the 90+ combat requirement.
War RecordEdit
As of June 19th, 2010 the Goddomot Fronks have fought in 3 wars, and easily won every one.
- June 20th, 2010 The Goddomot Fronks give each other rusty vikings, in celebration of the wars.

- On June 13th, 2010, they finnally won the galactic struggle and defeated The Empire, they won all 3 rounds and 2 bonus rounds which consisted of 3 vs all, and 1 vs all

==Youtube Channel ==
The Goddomot Fronks have a Youtube Channel named "Goddomot" http://www.youtube.com/user/Goddomot
There latest video, as of June 19th, 2010 was titled: What happens when your in the Fronks! thumb|right|300px|Oh myyy... ==Member List ==
Mr.President -
DaGreenFiend
Grand High Overlord-
Joeyc1

Generals -
Swordy320
Rabbitfear
Captains -
ssr
Lieutenants -
l sunlink l
Pogrom
Oss spy
ChaosJon
nubpl0x69
Sergeants -
White-Black
nwa bad

Corporals -
F-O-P-P-I-T
snap1
bigbub90
dj burn one

Privates -
Kitties God
elmokiller96
Gyro-Zaros
sh0wnofear
sofia2
deleter9000
dragonxdyke
im fly 55
Pjxfriend
bigbuckhunt6
NobodySigil
k*killerkt
Snow_or_rain
tufftypwnr
tetsume-kun
Idiot5 000
Boojum09
Aftran2
phomerii 93
LUNAR MASTER
str own1337

Retired-
The Heat
luke77713
La Fronk
Community content is available under
CC-BY-SA
unless otherwise noted.