Spirit of Saradomin

Leader

Azzator, Bassjason1, Pfohlol, and Strikerz131

Clan Chat

Spiritosara

P2P/F2P

Both

Time Zone

Varies, we have members from all over!

Clan World

World 48, 94 F2P

Website
Welcome to the Spirit of Saradomin clan's wiki page! Please take a look and see if this is the right clan for you!
Ideals and Mission
Edit
SoS is a skilling clan whose members aren't afraid of combat. We feel that to truly be a skiller, you need to train all the skills to the best you can. We emphasize using a main account to discover all that Runescape has to offer. Almost 3 years strong, SoS has been providing a friendly environment and will continue to do so as long as there's a Runescape to play!
Possibly the strongest aspect of SoS is the strong unity. It is a clan founded on respect, both for the clan as a whole, and the individuals that make SoS as successful as it is.
Requirements
Edit
To be a fully accepted member of SoS, we require that you:
OR
Have a combat level of 100 or more with 2 non-combat skills over 70
In order to join we ask that you register a forum account on our clan site. There is an application form we ask that you fill out in order for us to seriously consider your application.
How The Clan Works
Edit
Spirit of Saradomin is a community. We have around 60 members signed up, of which 20-30 are active throughout the day. The majority of the clan are P2P, while we have members that also seasonally go F2P. Play-wise, there are a lot of odd-balls and beasts to be seen. Slayer is a general theme often discussed in the clan chat, but as we have many members training different skills, there is no one clear winner, as we have hardcore Slayers and devoted Runecrafters in the same chat very often throughout the day.
The two major sources of communication are the clan chat and the forum. Ranks in the clan chat are decided by a member's time in the clan (i.e. first rank up from Recruit is attained at 3 months in the clan). This system is put in place to discourage competition for ranks so that everyone can focus on having fun and enjoying themselves.
Skill of the Month
Edit
Clan-wise, a major activity is the Skill of the Month Competition. A skill is voted for before the new month begins, and then our members enter to compete. The goal for each member is to get as much XP as possible in that skill in the month's time. XP trackers are put into a spreadsheet that update every day for all to see where they stand in the competition. The clan has covered everything from Runecrafting to Combat. We tend to shy away from buyable skills in order to let our members truly show off their skills.
At the end of the month, the member with the highest XP in the skill wins and is rewarded with bragging rights and a signature, like so: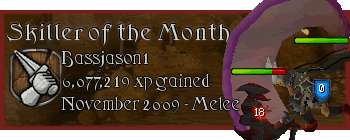 Community content is available under
CC-BY-SA
unless otherwise noted.