Hello, and welcome to the Spartans clan chat page. The Spartans originate from the many types of clans, and features many different activities. Some of the legendary Spartans prefer to be in constant clan wars, fighting for Sparta, while others prefer to just talk with others that live in Sparta. Spartans feature many types of activities that are done as a community, such as Clan Wars, Castle Wars, Random Skill Training, Sacred Clay, Player Killing, etc. Spartans must be level 60+, or have a skillcape of any kind. This shows skill in the team member, yet also allows pures and those that are "newer" to Runescape participate, without penalty. Although the clan is somewhat small, I can assure you that it has quite a few members. You can easily join by messaging SpartaMonkah, or catching him in his clanchat.
People in the clan:
SpartaMonkah - King
Bluekirby93 - General
Piekid70 - General
Spartans

Please add one!

Founders:

SpartaMonkeh

Founded:

5/2010

Clan Chat:

SpartaMonkah

Home Worlds

44, 64.

Uniform:

Must be wearing a Tyras Helmet for most clan meetings.

Minimum combat requirement:

Level 60+, or have a skillcape of any type.

Meeting on:

Whenever possible.

Union:

Base:

City of Burthrope.

Members?

Yes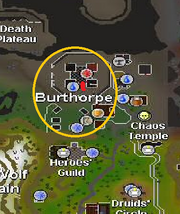 Red = Precise Meeting Spot Orange: Spartan City

Dont wonder, know!
Steps on playing: Find Sparta!
1) Add SpartaMonkah
OR
1) Check SpartaMonkah's clan.
2) Check Bumbum007's clan
3) Give up and try it tomarrow.
APROVAL LIST:
Edit your name in this list and you will be added. Make sure you are
1) P2P
2) 99 in a skill, OR above 60 combat.
3) Rich enough to buy a tyras helmet.
Sign up by putting your username under here!
-Jwilkinson55
-A H U B B
-
-
-
-
-
-
-
-
Community content is available under
CC-BY-SA
unless otherwise noted.