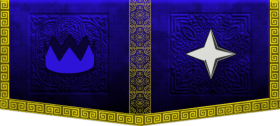 Clan:Silver order
Greetings to you Runescapers reading this page. This clan is actually not a clan or not just a clan, this is an order for players with attitudes like paladins. But this order is accepting all F2P players by this time right now, because I cannot trust most members in my clan right now. But good and willing members who aren't against free players or members can join as long as they don't get abusive. Right now the clan is small below the size of 5, so we are recruiting F2P and a few members. Unfortunately the clan is already dissolved, but it has been reborn by some of it's members.
THE NEW CLAN IS THE CHOSEN LIGHT.
Goals:
1.To end discrimination in Runescape.
2.To get Jagex to give a little more attention to free players.
3.To protect the opposed.
Great and good are seldom the same man
-Winston Churchill-
Requirements:
There are no requirements for joining this clan.
However, for those with experience on governing and politics, recruiting, etc; are needed in this clan. Contact me in worlds 20 or 25 at the highest point of Falador castle.
RULES:
1. No disrespecting of players.
2. No fighting in clan.
3. No Racism, facism, etc.(this is the third offense in the order, which will result in expulsion).
Community content is available under
CC-BY-SA
unless otherwise noted.