Pop Till You Drop

Clan Owner

Super Super

Members

226

Citadel Level

Level 7

Home World

World 25

Clan Requirements

None

Clan Homepage
Pop Till You Drop is a rich clan and is the host of many drop parties at the Falador Party Room. We have over 200 members with about 20-30 online at any given moment. The clan currently has over 32 billion total XP and the current Citadel Level of our clan is 7, achieved on 21 December 2014.
Respect all clan members.
Be helpful if someone wants help.
Do not scam anyone, beg or gamble.
Do not use extremely offensive language towards anything or anyone (we will let you off with the occasional swear word, but if it is constant we may remove you from the clan)
Do not spam the Clan Chat.
Never ask for a rank up unless you believe you are due to one.
Have fun!
Our Motto: We are a society. We are one. We are Pop Till You Drop. Welcome to the Party!
Keywords: Community, All Skills, Friendly, International, Social, Mixed F2P & P2P, Events, Loyalty, No Profanity, Combat Level Any
Home World: World 25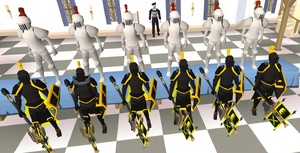 Part of the Clan
Edit
The Owner of Pop Till You Drop is Super Super. His famous giveaways include the "first to trade" games along with trivias, he has done countless drops for the people of his clan, and he has earned utmost respect by his clan members. Some of the clan's biggest events have been a 200M event by Arist0te and an 800M drop party by C H U G! On the 16th May 2015, the clan held a mass 99 event, which had followed on from a 92M drop party hosted by Jiten Alien and Raz3r to celebrate the day ahead.
Additionally, the clan engages in a number of social media related acitivities, such as a clan closed facebook group, a Teamspeak server and a Skype group chat.
Clan outfit
Edit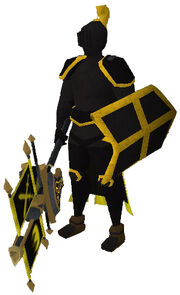 Pop Till You Drop also has its own Clan Outfit, which may give clan members bonus rewards at events if worn! Additionally, owning the clan outfit shows loyalty towards the clan, which will instantly rank up any recruit to corporal, or any corporal to sergeant (only if they also achieve fealty 3 or 10m clan xp alongside). The outfit comprises of:
Head: Replica metal plate armour[1]
Body: Replica metal plate armour*
Legs: Replica metal plate armour[2]
Gloves: Replica metal plate armour*
Boots: Replica metal plate armour*
Necklace: Empty or hidden
Cape: Clan cloak
Main hand: Clan vexillium
Offhand: Replica metal plate armour*
↑

The Replica metal full helmet, platebody, platelegs, gloves, boots and kiteshield should all be coloured in the golden trimmed black colour

↑

Only the platelegs are part of the clan outfit, the plateskirt version is not considered part of the clan outfit.
Ranking System
Edit
Sign
Rank
Requirements
Recruit
Not being on the ban list
Corporal
10m clan xp or Fealty 3 or Clan Outfit
Sergeant
50m clan xp or 10m clan xp + Fealty 3 or 10m clan xp + Clan Outfit
Lieutenant
100m clan xp
Captain
150m clan xp and Fealty 3
General
200m clan xp, Fealty 3 and deemed worthy by other General+ ranks

Admin+
Must have achieved General rank at least once.

Must have been in the clan for a period of longer than 6 months.

Even though we are actively checking for rank-ups, please tell one of the admin+ for a rankup if you think you deserve one.
Super Super
Jare
Delano
Dryfto
HC Bald (Super Super's alt)
Firereign2
Lebareslep
Kokas
Jiten Alien
Arcanopulse
Skulled
Admiral of
Makeinen
Jaresy (Jare's alt)
Guhi (Delano's alt)
27 27
Skylamon
Marcarrian
Jax Merser
Heelot
Custas
M oo
Minnierex
Goldsix
Bearding
Peedah
Luke Dyer1
No Regertz
Tommy00james
Ycampus
0SM
Raz3r
Achievements
Edit
| Skill | 120s | Skill | 120s |
| --- | --- | --- | --- |
| | 1 | | 7 |
| | 6 | | 0 |
| | 1 | | 0 |
| | 12 | | 0 |
| | 16 | | 0 |
| | 4 | | 0 |
| | 0 | | 2 |
| | 1 | | 5 |
| | 0 | | 1 |
| | 5 | | 0 |
| | 2 | | 2 |
| | 2 | | 4 |
| | 6 | | 1 |
| | 14 | | 24 |
Events log
Edit
Subpage to the clan's event log can be found here: Pop Till You Drop/Events log
Warning! The previously linked subpage is packed with pictures, which will heavily consume your internet data package if you are using one.
Community content is available under
CC-BY-SA
unless otherwise noted.