The Ranking System is in Experimental mode. Please join and give feedback.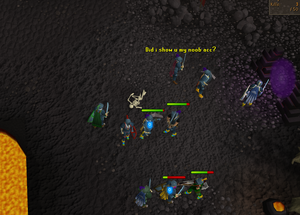 Dark Nightmare is a clan created by Sjblade and Tank Dot 56. It is f2p events only for the time being. This is so that everyone gets a chance at events.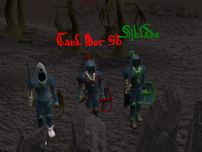 Ranking
Dark Nightmare Ranks

| Symbol | Rank | Requirements |
| --- | --- | --- |
| | Overlord | Reserved for important members. |
| | Knightmare | Recruit 15 active members. |
| | Slayer | Recruit 9 active members. |
| | Assassin | Recruit 6 active members. |
| | Rogue | Recruit 3 active members. |
| | Exalted | New Members |
Ranking System Template Taken From The Great Clan:Team Falcon. :)
Circles
Dark Nightmare features two circles in the clan. The inner circle is composed of high ranking members who plan out new ideas and events. The outer circle is composed of lower ranking members who entertain and provide strength in battle. There are more outer circle members than inner circle members.
Archives
Here be the Archives dating the events that has happened in Dark Nightmare.
The Merge
Dark Nightmare started as a merge between Sjblade's clan, Dark Order and Tank Dot 56's clan, KNightmare.
Contact
Private message Sjblade.
Go into the Dark Nightmare channel, D N Channel.
Leave a message on Airblade86's talk page.
Alliances
Community content is available under
CC-BY-SA
unless otherwise noted.