The Questing Clan of Runescape

Founders

The Draziw, Kappathegray, Sethron 666

Date Founded

November 9th, 2009

Clan Channel Name

Clan Quest

Home World(s)

66 & 100

Official Uniform

Quest Point Cape, Cape of Legends, White Knight Equipment, White Armor

Minimum Combat Requirement

None

Team Cape

Quest Point Cape, Cape of Legends

Requirements

20% quests completed, RuneScape Membership

Citadel Level

Level 7

For Whom?

Questers / Noobs
The Questing Clan of RuneScape (QC) aka "Clan Quest" is a clan that organizes all serious Questers into one community. Clan Quest's aim is to create a community of players who have completed, or strive to complete, every Quest and Achievement Diary in RuneScape. The Questing Clan as a group serve as a resource to any RuneScape Player. The clan exists to help players solve quests, complete diaries, and provide assistance to anyone who has not obtained their Quest Point Cape. Every one of its members aspires to complete (and maintain the completion of) every Quest and Task Set. Many of the community's members are avid followers of RuneScape Lore, and all are experienced RuneScape players.
"We are not your skillers, your pvp-ers, or your merchers. We are a more elite band of RuneScape players. We are the adventurers. We are the people who write the guides that others read." -Mod Timbo's Clan Blog, August 2010.
Historically, Clan Quest has had limited interest in inter-clan conflicts. Due to this, the group has never participated in any wars or combat oriented competitions. However, due to the high caliber of its members, Clan Quest has won many competitions both Jagex hosted and within the community. The success of the clan within the global RuneScape community has rendered it a common name for winners. Clan Quest's holds no combat requirements and is notorious for not requiring regular in game participation of its members. Clan Quest brands itself as a mature group- focusing on bettering themselves in RuneScape and in the real world.
Clan Purpose
The Questing Clan of Runescape is two things: a company and a clan. Both have unique, yet overlapping purposes:
In accordance with its function as a company, any RuneScape player who seeks aid on a quest is encouraged to enter the Clan Chat "Clan Quest" and seek assistance.
As a clan, it seeks to provide an increase in enjoyment and ease in playing the game in the following ways:

Provide knowledge and assistance to members on all things game related.
Provide frequent non-mandatory events, allowing players to participate in minigames and D&D's with the clan.
Provide 'Clan Quest unique' non-mandatory events to engage the members in social activities.
Providing a friendly and enjoyable atmosphere with which to exchange ideas about the game.
Quest Help
The RuneScape forums get a new thread about players creating a Quest Help Clan approximately twice a week. These "cc's" normally last less than 3 days due to lack of interest or number of members, and as a result, are most often disbanded.
Clan Quest, however, has been around for significantly longer than 3 days, has over hundreds of members that own the quest cape, and continues to serve as RuneScape's 'Quest Help' clan chat channel. Any player is welcome to enter clan chat 'Clan Quest' for any quest questions they may have, and the members of Clan Quest are more than willing to help.Providing Questing assistance is and will always be the predominant goal of Clan Quest's community.
Community
Clan Quest, as well as serving as a reference cc, is also a social clan for anyone who is a "Quester." Quest cape owners are encouraged to join the cc, as Clan Quest is a community of players who share very similar interests.
"If you like to quest, don't like guides, love lores, and consider yourself a real adventurer, come join Clan Quest" -Kappathegray

 

 

(from: The Questing Clan T1

 

 

, original recruitment thread for clan quest November, 2009)
In the Runescape game, Clan Quest provides many services to encourage community activity and support for all members. Besides Quest support which is always offered, Clan Quest provides regular events, has an event team which organizes impromtu events, and the core members are always willing to assist a member in anything if help is requested.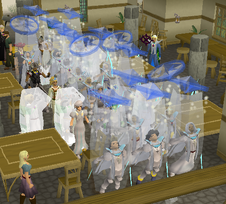 The willingness of most of Clan Quest's members to help any other member no questions asked has earned it a formidable reputation within the Clan Community of Runescape. Individual who are bothered by trolls, have their resources crashed, die and need a grave blessing, need company in XP grinding, or any other possible types of assistance find they need only request help, and an army responds.
One other key component of the Clan Quest community is its event hosting community. Any player can host an event. The clan has a non-official group who hosts fun and innovative based upon the current interests of clan members and the most popular game content at present. For more information check out: Event Thugs United
Outside of the actual game, Clan Quest provides services to its members in a multitude of venues. With an impressive, ever-active community forum (known commonly as the offsite), IRC, Skype, and even real world meetings, the community of Clan Quest's members are very active, and provide a significant amount of support and engagement to their peers.
History
The Questing Clan of RuneScape is a fairly new clan in RuneScape, but has old lineage. It has connection to various other clans and organization which closed, and have become the current "Clan Quest." Its formal founding occurred November 9th, 2009, and was recognized by Jagex as a legitimate clan December 8th, 2009. Throughout its existance, Clan Quest has had many significant changes, in government, members, and clan goals. In its current state The Questing Clan of Runescape continues to prosper. It is one of the largest clans in Runescape, the largest questing community, has received significant recognition from Jagex, and yet continues to look for more. The community of Clan Quest has, is, and always will strive towards its primary goal - bettering itself.
Clan Government / Ranking System
The Questing Clan of RuneScape's constitution and legal systems are outlined in their official Clan Charter, The Charter and Foundations of the Questing Clan of Runescape. The Charter outlines the procedural specifics of the clan, designates responsibilities within the clan, and provides a formal listing of clan laws. The Charter also outlines two forms of rules: The Revised Code, and the Canon of Ethics
Clan Structure
The QC organization is composed of two bodies, the "Councils" and the "General Clan". The QC's "General Clan" serves as:
the legal term for the group that includes all of the clan's members
the body that includes all governing persons and non-governing persons
Used to describe the body at large when determining public issues that are brought before the clan as a whole to decide.
The QC's "Councils" serves as:
The body of actors whom govern the clan as a whole
Is composed of members of the General Clan
Is responsible for the continuing survival of the clan
Operate as specifically outlined in the QC Charter
Clan Government
The Clan Councils make up the Clan Government. There are currently three councils- each serving a different purpose.
Low Council
For more detailed information about the Members of the Low Council visit here.
The Low Council is responsible for the management of clan quest's daily functions (ie. Clan Chat Management, Forum Bumping, and unofficial event planning and management). They are also, next to the Razzers, the chief body responsible for recruitment, both ingame and on the RuneScape Official Forums.
Current Head of Low Council
Tyco Elf
Current Low Councillors
Quest Kitty
Lady Klaw
Vodka B
Karen Angel
AFK Seb
Miss Alaska
Gardenchick
Santa Ends
Pacrat4

Iskh
Protoman807
Whig
Shane12088
Irene Angel
Xenon Ray
Mell
Choto 3000
The Emeritus Council is a sub-section of the Low Council containing members of the Low Council who did their duty, but have retired from either game, clan, or general activity.
Current Emeritus Councillors
Sinistral
The Rerecros
Borizi
Viye
Supmyninja
Thaxy
AlphaLeo
Nicole Angel

linkvi
K3F
xoxSCOTTYxox
ILikeSlayer
Stick Man H
DrakanHpS
Saiyan Eric
High Council
For more detailed information about the Members of the High Council visit here.
The High Council is responsible for QC administrative operations including: All ranking of members, accepting or denying of applications for full membership, accepting/denying applications for war, planning and operation of formal clan events, and other functions above the responsibility of the Lower Council not specifically outlined.
Current Head of High Council
Cireon
Current High Councillors
The following persons, are retired members of the Clan Quest High Council. They no longer cast a vote in Clan Quest issues, but are still recognized with the Overseer Rank: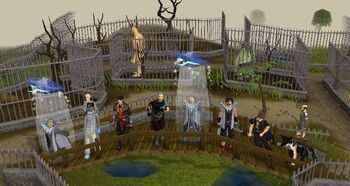 82nd Airborne
ChaDMcbaDd
Sethron 666
KappatheGray
Honor Council
For more detailed information about the Members of the Honor Council visit here.
The Honor Council is responsible for the QC Judicial needs, and mediates conflicts between members. Their primary purpose is to ensure that the clan members act honorably, and in keeping with this goal, they function as mediators and advisors to resolve conflicts and retain clan unity.
Current Head of Honor Council
AFK Seb
Current Honor Councillors
Quest Kitty • Shane12088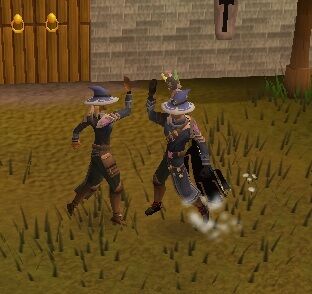 The following persons, are retired members of the Clan Quest Honor Council. They no longer hold any authority with the Honor Council, but are listed here to recognize their past contributions:
Nene Mom
Mc Hemsky
Auridan
Roadmaps
Lady Klaw
Cireon
Citadel Staff
The citadel staff is the body that decides the path to follow on the clan citadel upgrades. They are also responsible for maintaining the clan members' awareness of the updates on the clan citadel, and the current weekly goals for it. The team is also asked to remind clan mates about the day to day progress of resource gathering; and to encourage more helpers in the clan chat if we are not keeping up with our goals.
Tohtli
Bobacupcake
Cireon
MsKonnan10
Roadmaps
Vodka B
Recruitment Razzers
The Recruitment Razzers are a group of clan members whose focus is on recruiting new members to the clan. Their mission is promote Clan Quest in RuneScape and scout for players who enjoy questing and are good candidates for Clan Quest. They also have the ability to invite new recruits on the official CQ recruitment forum. The Razzers were formed while recruitment was closed during the purge. The group was recognized as a formal organization during a clan meeting on October 15, 2011.
The Razzers leader:
The current recruitment razzers are:
Quest Kitty
Sirapyro
Choto 3000
Wolffi
Event Thugs United (ETU)
Event Thugs United Complete Article can be found here.
The Event Thugs are a group within Clan Quest with the goal of making the clan a fun and interactive community. Lead by Rerecros and Supmyninja, they design and promote events that stay up-to-date with the new and popular RuneScape content, and host minigames, competitions, hide-and-seek challenges, group skilling and boss fighting amongst other things. They are always changing and creating more innovative events for the clan, and aim to make events available for all types of clan members that are worthwhile, and most of all - fun!
AlphaLeo
Karen Angel
Nicole Angel
Miss Alaska
Mizu Arashi
Viperxk
Ranking Outline
The Clan rank system is based on the percentage of Quests Completed:
Recruit is for new members whilst they're on probation.
Corporals, Sergeant, Lieutenants are working to obtain their quest point cape
Quest Cape Owners - Captains , Generals.
Low and High Council Ranks are obtained as specified in the QC's Constitution.
Clan Chat
| | |
| --- | --- |
| Clan Chat | Rank |
| Recruit | Probate |
| Corporal | Alternate accounts/other members |
| Sergeant | 50% of Quests completed |
| Lieutenant | 80% of Quests completed |
| Captain | Quest Cape owner. |
| General | Task Master/Master Quest Cape owner. |
| Admin | Avatar Wardens |
| Organizer | Razzers |
| Coordinator | Low Council Member |
| Overseer | Honor Council Member |
| Deputy Owner | High Council Member |
| Owner | Boon |
Absorbed Clans
The Questing Clan of Runescape's success has been helped by the other clans which have disbanded and united with Clan Quest. Their contributions have made what Clan Quest is today.
Absorbed Clans Include:


Pirate Society
Dark Stars
Forgotten Lores
Pheonix Rising
Emmyricious Knights
Questing Clan Services
The QC provides many services to its membership, both on runescape ingame, and out of it.
In-Game Services
Like all other Clans in Runescape, The QC provides services to its members in game. Chief among these services is the Primary function of the clan: Quest Help.
With over 80 members who own the quest cape, and over 125 members with more than 250 quest points, the cc that the clan operates serves as a location of quest experts. Any player in Runescape is welcome to join the cc, and the service that Clan Quest provides is the reason for its success. It is currently the only clan that functions solely to assist players completing Quests.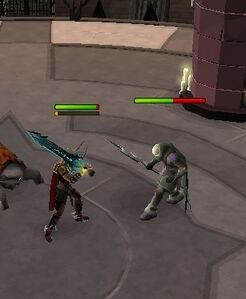 Besides this is the community that exists in the Clan. The community is very helpful, works together, and is fairly active in the events that are occasionally hosted by QC Leadership.
Out of Game Services
The Questing Clan of Runescape provides multiple out of game services.
RuneScape Forums
Clan Quest has multiple threads in the Runescape Official Forums. These threads serve as simple communication venues, clan member's ideas, and the basis of Official Recruitment.
Jagex Clan Forums
With the implementation of the Clan Updates, Jagex has provided all clans with their own private forum. This feature, available and viewable to clan members functions as a supplement to the clan's offsite forum.
Clan Websites
A privately hosted website, where all Runescape enthusiasts are welcome to convene. It is moderated by Clan Quest officers, and encourages community through a multitude of media.
The Clan Quest Noobness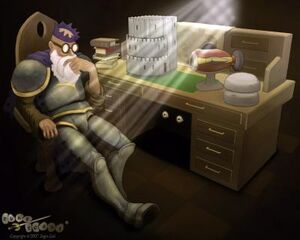 To a visitor of the Clan Quets channel, some of the clan's "practices" may seem very curious. Most important amongst these is the tendency for members to call each other noobs. "Noob" while used in Clan Quest, is a term of endearment; frequently used in friendly banter and to acknowledge a player's favorite friends in the clan. If you are called a noob in Clan Quest, rest assured this is a good thing. Keep in mind, you may be a noob, but you are their noob. They take this very seriously! Also, feel free to call any of members of clan quest noobs (as long as you remain polite) and please bear in mind their intentions if you are addressed as a noob while visiting.
Included in the practice of calling people noobs, you may find that many of their members possess nicknames including Noob (or some variation) in their name. Ex: Tohtli (Nubhtli), The Rerecros (The Noobecros), Bigg Doggg (Bigg Nubbb), The Draziw (The Boon), Skills2Quest (Skills2Noob), Anamona (Anamonub), Bobacupcake (Bobanubcake). Clan Quest members are encouraged to assume a "Clan Name" which includes Noob in some context.
Jagex Recognition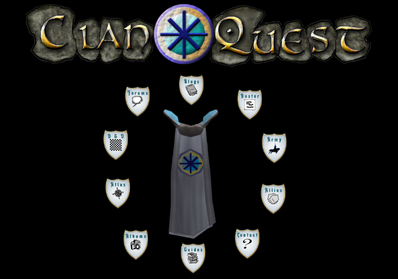 Clan Quest has received recognition from Jagex and other organizations on multiple occasions.
Feature Clan in Jagex Clan Blog
In August 2010, Jagex chose to honor The Questing Clan of Runescape, for the first time. They appeared as the Feature Clan in Jagex's Clan Blog , a blog the community hopes to visit several times in the future.
Featured Clan During Official Jagex Clan Month, March 2011
In March of 2011, Jagex hosted the "Month of Clans." This month was filled with events, Q&A Meetings, and also featured a display on the main page of featured clans. Eight clans were featured, and Clan Quest was one of the select few.
Website Recognition
Clan Quest's website is a duel functioning website that serves as the Clan's primary forum and a location for guides and services. It has been visited and recognized by Jagex employees, Received Coding Recognition from Drupal, been displayed as a Top 10 Fansite by Blizzard Entertainment, and is one Runescape Clansite that is commonly recognized by community players.
Clan Leader Forums
Because of Clan Quest's recognition and contributions to the Runescape Community and Clan Community, its leaders have been granted access to a Private Forum on the Runescape Official Forums. Dubbed "The CLF", the Clan Leader Forums are a place were the leaders of clan quest can communicate directly with Jagex on behalf of the Clan Quest community. This two way medium of communication has granted Clan Quest a unique ability to communicate with Jagex, and convey the clan's interests and needs.
Joining the Clan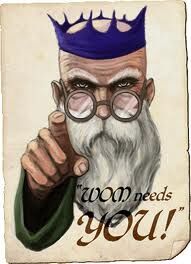 Official Recruitment information can be found at the Jagex Clan Database page.
The process of joining the clan changes occasionally, but the most up to date information on the clan can be found at the database. The database provides a QFC number for the cative Clan Quest recruitment thread as well as the clan's current recruitment status.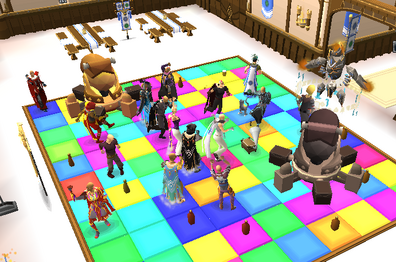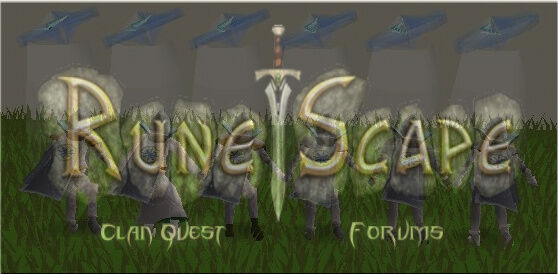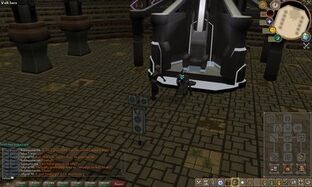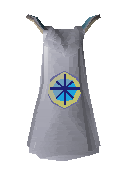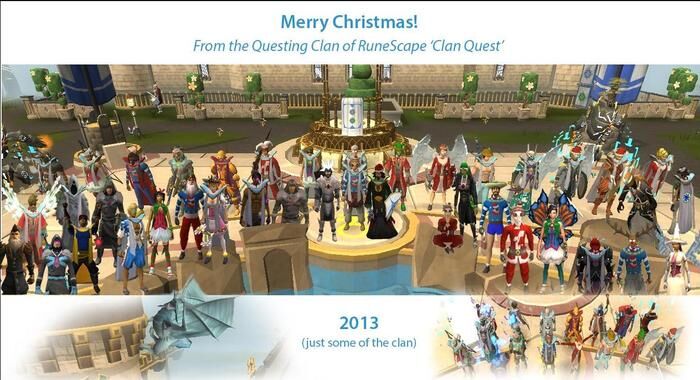 All items (11)