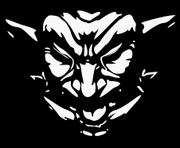 Bandos, (also known as the Big High War God, Goblin God and Sky Goblin), is the God of War, and one of the most powerful Gods of Gielnor, having been a key fighter in the God war between Saradomin and Zamorak.
Until recently, Bandos was almost completely forgotten by the humans of Gielinor due to his disappearance after the God Wars. However, with the introduction of the God Wars Dungeon, Zaros has gained a large surge of popularity, with plenty of clans taking their namesake off of him.

Community content is available under
CC-BY-SA
unless otherwise noted.